How to update your my65+ plan when employees leave
Keeping your retirement plan up to date
When employees move on from your organization, whether it's to a new role or into retirement, you want the transition to be as smooth as possible.
Regardless of where they go next, it's important for members to know that they can keep their my65+ plan for life so they can continue to manage their TFSA and RRSP through their working years and into retirement.
Once you remove an employee from your my65+ workplace plan, all employer and employee contributions that are processed through your payroll will stop and they will be automatically transitioned into an individual plan.
As the plan administrator for your organization, you play a key role in helping employees understand the actions they need to take. To ensure members retain access to their retirement accounts and have an opportunity to save for their future, there are also some important tasks for you to complete.
Here are some best practices to incorporate into your employee offboarding tasks.
Actions you, the employer, need to take
Remove the employee from the plan as soon as possible. To update your employee list inside the plan, you'll need to follow these instructions specific to your payroll provider.
Key information for your employee
To retain access to their TFSA and RRSP and to keep saving, your employee needs to take the following actions on a desktop or laptop computer: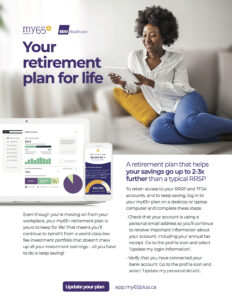 As a helpful resource for your employees, you can share this article and one-pager in your offboarding communications.
Questions?
If you have questions or need help in the process, reach us at support@my65plus.ca or book a call with our Customer Care team.